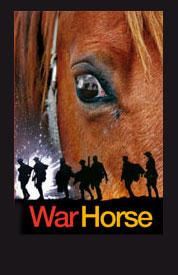 Important Dates
| | |
| --- | --- |
| On Sale | jan 01, 2010 |
| Preview | mar 28, 2009 |
| Closing | mar 10, 2016 |
Time
2hrs. 25mins. (1 Intermission)
Description
At the outbreak of World War I, Joey, young Albert's beloved horse, is sold to the cavalry and shipped to France. He's soon caught up in enemy fire, and fate takes him on an extraordinary odyssey, serving on both sides before finding himself alone in no man's land. But Albert cannot forget Joey and, still not old enough to enlist, he embarks on a treacherous mission to find him and bring him home.

In War Horse, actors work with magnificent, life-sized puppets by the internationally renowned Handspring Puppet Company, leading us on a gripping journey through history.
Should I see it?
What Is War Horse Like?
War Horse is a thrilling and unique theatrical epic in which actors tell the story alongside (and sometimes astride) lifelike horse puppets. The vast stage at Lincoln Center Theater's Vivian Beaumont Theater is virtually bare, but the cast of 35 (including groups of three performers ...
War Horse

Cast & Creative
Based on the novel by

Michael Morpurgo

Adapted by

Nick Stafford

Director

Marianne Elliott and Tom Morris

Set Designer

Rae Smith