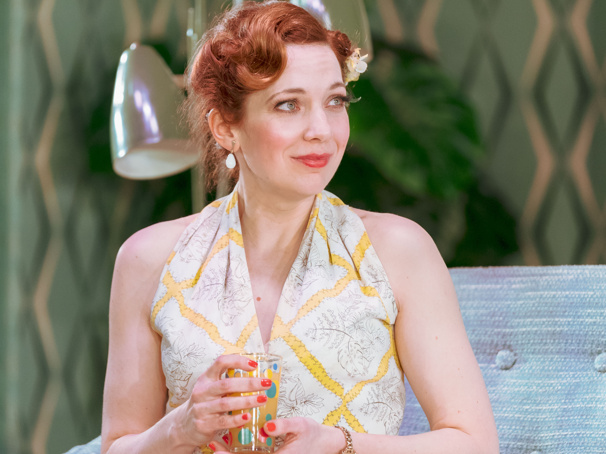 Katherine Parkinson in "Home, I'm Darling"
(Photos: Manuel Harlan)
A beloved name on British TV thanks to shows like The IT Crowd, Doc Martin and Humans, Katherine Parkinson makes regular, always-welcome appearances on stage and can currently be found playing the 1950s-obsessed housewife, Judy, in the Laura Wade play Home, I'm Darling at the Duke of York's Theatre, first seen in London last summer at the National Theatre. Broadway.com caught up with the sparky, 40-year-old Oxford graduate one recent lunchtime for a lively, friendly chat.

Is it true that Laura Wade wrote this play—first seen at Theatre Clwyd in Wales and then last year at the National Theatre—with you in mind?
That is true and also amazing: I can't think of a greater privilege particularly because I'm such a fan of her writing! Laura came to my house to tell me she was doing this while I was pregnant with my first child. As it happens, my first job was actually in a play [The Age of Consent] written by someone from Philadelphia called Peter Morris who I was going out with at university at the time, so I had had the experience of someone writing for me before, but this has been something very special.

What's your feeling about the tone of the play, which can veer from the comic to the tragic and back again, as your character, Judy, discovers the limitations of nostalgia?
I sometimes feel as if I find comedy and tragedy in every minute of every day, though it can be surprising where Laura finds the comedy because it's just so truthful. That said, I think the play is gently subversive and also quite political in the comments it makes about gender roles and so on. You also feel, I think, a certain amount of psychological unrest in Judy independent of her gender; it's as if she's scared of the rate the world is moving at and she can't catch up.

Are you intrigued by the play's refusal to explain precisely why Judy is so obsessed with her idealized version of the past?
I admire Laura for not having that second-act monologue where all the beans are spilled and it's a bit pat. As I see it, Judy grew up in what we imagine to be quite a rule-free environment with not enough boundaries, as a result of which she needs and seeks order. It's entirely possible, too, that things went on which weren't conducive to her having a healthy childhood.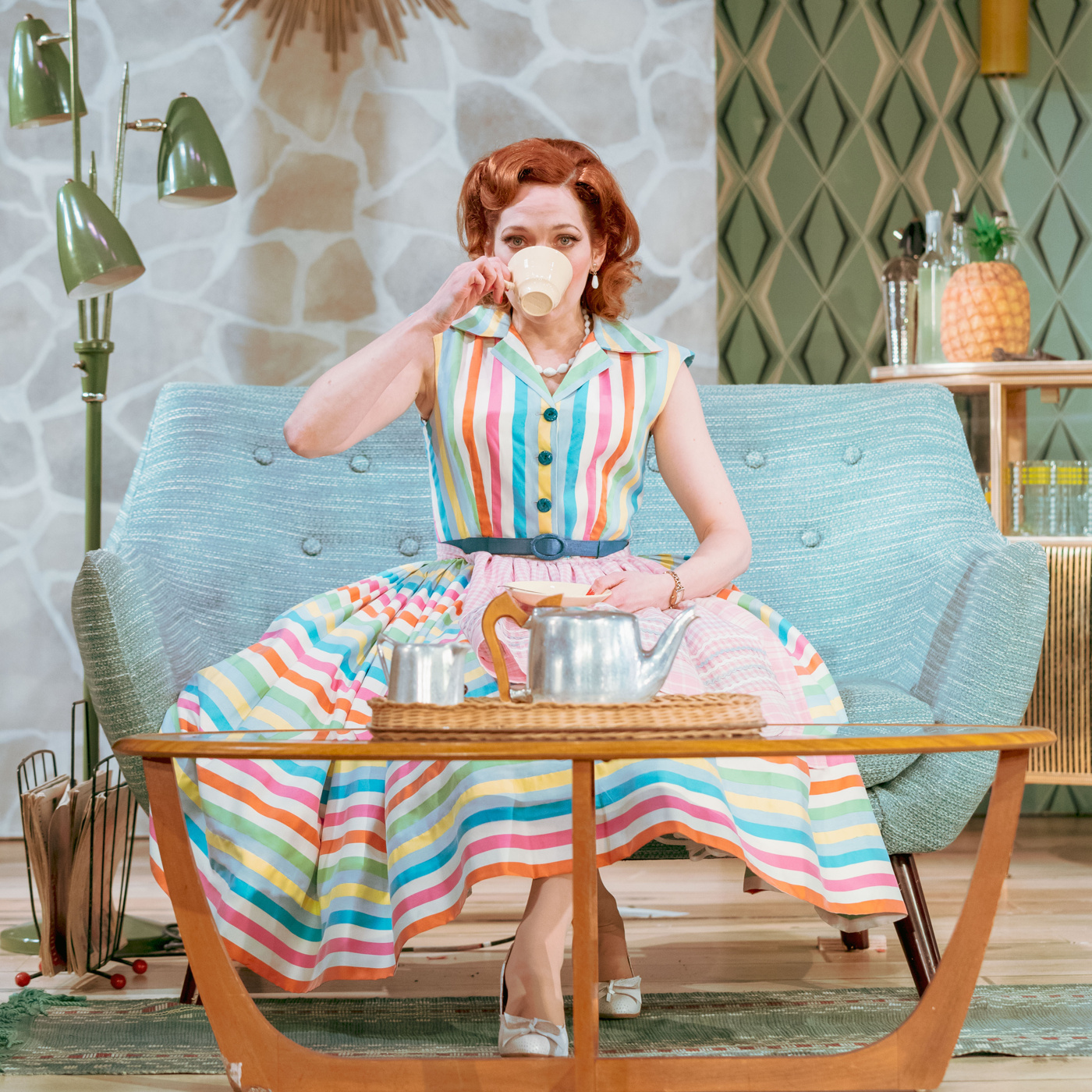 Has playing someone so obsessive-compulsive about cleanliness transformed your own domestic routine?
It's sort of hilarious how unlike Judy I am at home! I can actually feel new muscles that have formed just from doing the housework in this play, which makes me realize how housework-free I've been in my own life!

How would you describe the journey the play has taken to date, from Wales to the most important subsidized theatre in Britain [the National] and now to the commercial West End—and some touring dates next?
This is a play I am loving more and more and I have done long runs where that isn't the case. I love that we created it outside London in Mold [in Wales] where I assumed audiences might be less cynical and more invested than they might perhaps be at the Dorfman [the smallest of the National's three venues]. But there's something about Laura's play that prompts a consistently vocal response wherever we've been: perhaps it's that the dialogue feels so honest and unself-conscious.

Given that Laura's play Posh became a film [The Riot Club], has there been talk of putting this play onscreen?
There has been talk of that, too, but to be honest I'm just so loving the fact that we've got it to the West End that my appetite at the moment is very much for it as a play. Laura's writing lands differently every night, but it always lands.

Have you been liaising at all with your co-star in the film The Guernsey Literary and Potato Peel Pie Society, Lily James, who is appearing up the street from you in the stage version of All About Eve?
I thought I might drop her a note at the stage door now that we're up and running. [Lily] is a lovely girl, and I'd love to see that play, actually. I think it's an inspired idea to put that film onstage and our productions share a sound designer [Tom Gibbons].

Does it amuse you that the Mike Bartlett play Cock, which you premiered at the Royal Court, became the subject of some controversy due to its title when it transferred off-Broadway in 2012? [It was billed then as Cockfight Play.]
It is funny how puritanical it feels like America sometimes can be. Then again, my mum always called Mike's play Cock-a-doodle-doo, which is absurd but there you are!

What about musicals? I saw your father-in-law [the actor Trevor Peacock] many years ago onstage in Guys and Dolls and wondered if musical theater was appealing to you at all?
I saw that too not knowing he was going to be my father-in-law [laughs]! And bloody hell, do I sing, though can I sing is another question: my warm-up is burning the ears of everyone backstage, with endless renditions of "Send in the Clowns." But if it were the right musical part, I would definitely consider it!

Where is the Shakespeare on your resume? Beatrice in Much Ado About Nothing seems a natural fit for you.
I actually played Beatrice while I was at Oxford opposite a Benedick who now works for a big bank. [Oxford classmate and now leading Shakespearean actor] Rory Kinnear and I have a verbal agreement that we will do that play together sometime, but it's about finding a moment in his very busy diary.

Were you disappointed not to travel to Broadway in 2008 when Ian Rickson's brilliant Royal Court production of The Seagull transferred to New York, with Carey Mulligan and Kristin Scott Thomas heading the cast?
I would say that is my biggest regret, actually. I'm good friends with Ian [Rickson] and was set to go but I was filming a TV series here in England called The IT Crowd for Channel 4 and was given an ultimatum that I had to do that. It's a regret only because I want more than anything else to do a play on or off-Broadway.

Well, why not give it a go with Home, I'm Darling—which contains within it a fulsome vision of 1950s American suburbia?
I would of course love that and you're right: lots of people think the play is American possibly because it looks quite American. I think it's that we all just want to be American [laughs]!