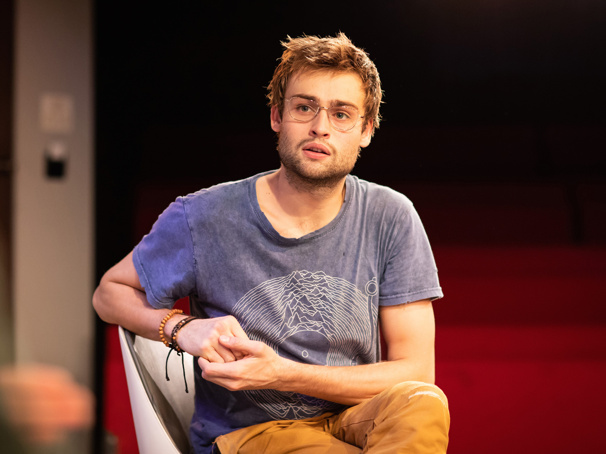 Douglas Booth in "A Guide for the Homesick"
(Photo: Helen Maybanks)
Still only 26, Douglas Booth has been appearing on film and TV for a decade and has won screen attention in such titles as Noah, The Riot Club, Great Expectations and the experiment in painted animation, Loving Vincent. But over the last 18 months, the fast-rising English actor has turned his attentions to the London stage, first in Stephen Karam's Speech and Debate and in a second American play, A Guide for the Homesick, also at Trafalgar Studios 2. Broadway.com caught Booth well into the run to talk shifting mediums, American writing and following his actress-girlfriend to Broadway.

How is it that your two London plays have both been American, and both been seen in the same, intimate space (downstairs at the Trafalgar Studios), which seats no more than 100 people?
I don't know, really, but it's not intentional. I enjoy the writing in American plays perhaps more than other plays, and I know that our producer on A Guide for the Homesick was an executive producer on Speech and Debate [Stephen Karam's play, seen there in February 2017]. So, when my name ended up on a list of boys that Jonathan [O'Boyle, the director] really wanted, Eilene [Davidson, producer] had already approved me, so it all fell into place.

Was it a no-brainer to accept the part of Jeremy in this two-hander alongside Clifford Samuel as Teddy?
I wouldn't necessarily say it was a no-brainer. But I enjoyed Ken [Urban, the playwright]'s writing and the rhythm of it and the way it flowed, and I liked the challenge of being one of two characters. I thought, I can do that and I can do it well, and it's a really great step for me.

When we first meet Jeremy, he has flown into Amsterdam from the Uganda capital, Kampala: are you a comparable world traveler?
I've never been to Uganda but I have been to Tanzania, which may not be as famous as Uganda but it is on the African continent: I went with a U.N. refugee agency about a year ago when the refugee crisis was at its peak, and I was meeting people who were detained there and who were trying to seek asylum in Europe. We traveled to the front line of Mosul in Iraq to try and shine some light on the situation there.

Did that help you relate to the global realpolitik of Ken Urban's play [a thriller of sorts that combines the political and the sexual]?
Well, Jeremy wasn't in a war zone, so it is slightly different. But I have been around Medecins Sans Frontieres [Doctors Without Borders], so I know that dangerous things happen, and a lot of my research was to do with conversations I had with Ken, who had done his own interviews with people in distress. We had lots of time to discuss the material covered in the play.

Do you feel like a late arrival to the world of theater, having made such a mark in films so early on?
I do, but it's important to point out that I first fell in love with acting at the National Youth Theater, which meant acting onstage though I was very fortunate then to get work in film and TV. I think I've now made a conscious effort to go back and start the theater career that many of my friends have had because they were working onstage before they started getting film jobs.

Do any specific examples come to mind?
I worked last year with Michael Stuhlbarg [on the Netflix project Gore, about the writer and wit Gore Vidal] and it was amazing to see how much wonderful work he had done onstage before he began working on screen. When you appear with Michael on screen, you realize the value of also working onstage and combining those two crafts.

Speaking of Gore, do you know when and where we might see that film [which has been dogged by doubts as to its release due to the presence of Kevin Spacey in the title role]?
I couldn't possibly speak to its release or not, but I actually had an incredible time making that movie. We shot on the Amalfi Coast [in Italy], which was amazing, and it's a very good film. It would be a shame if it has been abandoned.

Do you like the routine of the theater?
I do! I've been soaking up as much of London as I can and seeing my friends in shows, if I can get to the occasional matinee. Once this ends, I've got to go to L.A. to do some press for my new Mötley Crüe film [The Dirt], and I'll also be playing house-husband to my girlfriend [actress Bel Powley] while she starts a job over there.

Did you manage to catch Bel on Broadway last season in the Tony-nominated revival of Lobby Hero?
I was there with her and surrounded by all those guys [Powley's co-stars Michael Cera, Brian Tyree Henry and Chris Evans], and they were having so much fun on that show. Bel had such an amazing time on that job, and to see her have that experience on Broadway made me want to do that myself sometime soon. But I'm 26, so there's still time.

Were you around for her previous Broadway run in Arcadia?
That was a long while ago [2011], but it's funny you mention that because one of my first-ever auditions when I was 15 or 16 was for the London revival of the same play: I got word that a playwright called Tom Stoppard would like to meet me, and I had no idea who he was at that age. So, I went to see him for Arcadia and even had a callback: I could have been doing theater at the beginning of my career!

What do you make of one prominent London critic's remark that you seem ready to play Hamlet?
That's flattering from whoever wrote that and it would be an incredible challenge and one that I may choose to take up one day, but I wouldn't say that I'm rushing to play Hamlet. It feels like something my mother may have told me about during exams: "When are you going to play Hamlet?" [laughs]

Do you envisage further theater on your horizon?
I think it's maybe time for me to go to a slightly bigger theater and push myself in that sort of situation. I dream of working someplace like the National, which feels like the pinnacle; I grew up going to plays there. Who knows where I might go next, but I want to continue doing as much theater as I can.