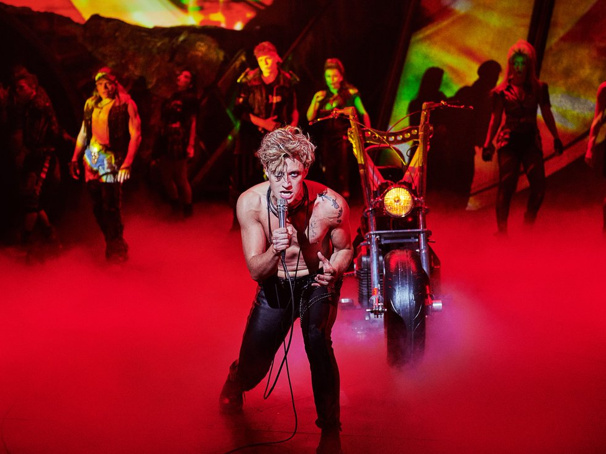 Jordan Luke Gage in "Bat Out of Hell"
(Photo: Specular)
Jordan Luke Gage was already doing several performances a week as the ever-young Strat in the Jim Steinman-scored rock extravaganza Bat Out of Hell at the Dominion Theatre, but when original leading man Andrew Polec left the show to return to the U.S., the 26-year-old Englishman stepped up to the star position. Broadway.com spoke to the charming performer about dyeing his hair, dream roles and his name.

Is it unusual to be stepping into a role which you had already been doing during Andrew's run, as one of his two alternates?
It is odd, but having done it for five months two or three times a week prepared me for this moment, and it was nice not just to be thrown in at the deep end, especially given that the scale of the part is so huge.

Had you been with the production from the beginning?
Yes, from the start of rehearsals all the way through, and if I wasn't onstage as Strat, I was onstage with Andrew. I played a character called Hoffman, who was from the tribe of which Strat is the leader—so I got lots of handy tips just from being there: things like angles and positioning and that kind of stuff.

How would you say your Strat differs from Andrew's?
Andrew was amazing, and I've definitely taken his energy and his complete lack of self-consciousness onstage with me. But at the same time, I haven't wanted to do an impersonation of what was done before and have been told that my Strat is quite spiritual: I like to play the sensitive parts of the character as well as the crazy rock star personality that he also has.

What about your hair, which is quite different from Andrew's cloud-capped look?
I actually just dyed my hair last week! It's normally dark brown, but they sent me to a salon to get my hair dyed blonde for the part because I really wanted to get my teeth into the role. Before, I had clip-on extensions with blonde fringe and glue. That took time at the beginning of the show, and it's lovely now just to be able to rock up and not worry about it.

How do you keep "match fit," as the Brits say, so as to sustain your performance across each week?
I wish I could say I had something like a miracle elixir but it's more like lozenges and sweets from the pharmacy around the corner. Andrew told me to make sure to use my hours spent away from the theater really looking after myself and resting: I can't be going out and having a wild social life—even though that's kind of who the character is [laughs]!

Are the rewards each night worth the sacrifice?
Every single night that I go out and do it, it genuinely does feel so exhilarating, and I have so much adrenalin that has built up that I can't help but perform it as if it's my last night. I'm loving every single second.

How does it feel age 26 to be playing someone eternally young?
It's weird: I kind of don't feel 26 although it's not as if I'm consciously trying to play younger. I guess it's more that I feel as if I am still not quite an adult, so it feels natural to be playing younger than myself.

Don't you have a Peter Pan tattoo on your body?
I do. I got it about three years ago just because I've always been fascinated by the story of Peter Pan and the whole idea of being frozen at a particular age and of Neverland: everything about it fascinated me.

Is that a role you've ever actually played?
I've never had the opportunity and I'm kind of too tall to play Peter Pan now anyway [Gage is 6'3"]. So, this has been a nice compromise: with Strat, it doesn't matter what height you are.

Is Strat the sort of role you'd imagined yourself playing?
Well, I've always been more of a "poppy rocky" kind of singer rather than a legit musical theater performer, so this felt definitely up my street vocally. I remember when I got the audition thinking that this just felt right; sometimes you go for auditions and want something so badly and it doesn't feel like it's going to happen, but this one just did.

Are more classical musicals in your wheelhouse as well?
At Mountview [the London drama school], I did do more of the classical musicals—I was Henry Higgins in My Fair Lady. But I was also in poppier stuff like Bat Boy. I played the doctor who tries to kill the Bat Boy.

What roles are on your wish list?
Jesus in Jesus Christ Superstar is one all of my all-time favorites and, from completely the other side of the tracks, there's Tony in West Side Story. Even though that's more classical, there's something about that part that just attracts me to it. And then there's the buzz about all the things coming over from New York—it would be fun to be part of one of those.

I must ask about your impressive-sounding three-word name and how that came about?
When I was growing up, my friends used to call me JLG, which somehow rolled off the tongue better than Jordan Gage and is also my full name. So, when I was at Mountview and deciding which name to go for, I had a meeting with the head of year and we agreed that the three-word name sort of stands out. Hopefully people will remember it!