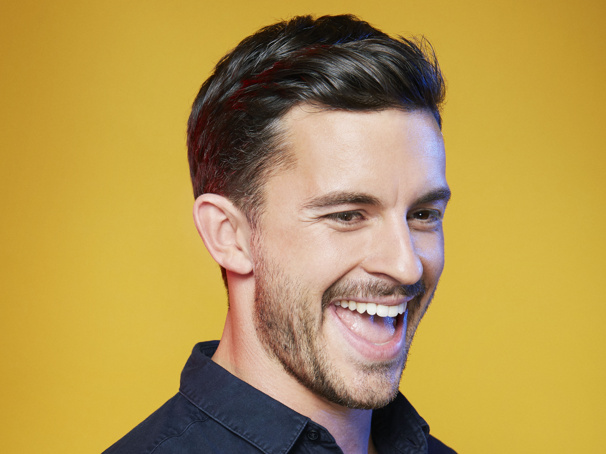 Jonathan Bailey
(Photo: Dan Kennedy)
Jonathan Bailey's credits range from Gavroche in Les Miz when he was a child actor to the most recent London revival of The Last Five Years, opposite Samantha Barks, and the Almeida Theatre world premiere of American Psycho alongside Matt Smith. He is currently stopping the show nightly at the Gielgud Theatre as Jamie—the nervous spouse-to-be formerly known as Amy—in director Marianne Elliott's gender-bending take on Stephen Sondheim's 1970 classic Company, starring Rosalie Craig as the first female Bobbie. The irrepressibly likable Bailey took time one recent morning to discuss complicated lyrics, unwelcome wedding gifts and the joy of appearing onstage with Patti LuPone.

Does this feel more like a new musical than a straightforward revival, given the various gender swaps at play and the authorial changes that have come about as a result?
Yeah, I think so. On this, we've been given the actual luxury of creating something from nought, so it does feel like a vital and new piece of theater; it delivers on all levels.

Is this your Sondheim debut?
It is. I mean, honestly, this whole thing has been nuts! I'd seen Side by Side by Sondheim some years ago, which followed directly into the theater where I had just done [Jonathan Harvey's breakout play] Beautiful Thing. I was 18 and remember being completely obsessed with the music and taking "Another Hundred People" [from Company] and singing it through. The thing with Sondheim is that people sometimes say he's the only thing that matters, and then you end up embalming him, when the fact is he just writes the best and most accessible music.

How did it come about that the reluctant bride, Amy, became the fearful, rapidly spoken Jamie?
I actually got the call about this on my 30th birthday. I'd been in a workshop of this production playing another part when I got a call from Marianne [Elliott, the director], who said that she had had a sleepless night and that maybe the character of Amy could work as a guy. My first reaction was, yes, this just makes complete sense.

Why did you feel that so instinctively?
I remember thinking that it chimes on a completely human level. If you think of the character's anxiety being overruled by societal pressure, it completely makes sense that she could now be a gay man: if we're talking about relationships now, the most uncharted and undefined ground at the moment is sex and sexuality and the heteronormative ideal.

What was the reaction of Alex Gaumond, who plays Paul, the calmer other half of the Amy/Jamie relationship?
Alex was actually going to play Paul before Amy become Jamie. They called him to say, "What do you think?" and he said, "Absolutely brilliant." I then got to meet Stephen Sondheim and, yeah, the whole thing has just been completely wild.

How was it meeting Mr. Sondheim?
I managed to hold a normal conversation and then at the end grabbed him and said, "Can I have a photo?" [laughs].

Do you have sense of what Rosalie Craig's Bobbie brings to the entirety of the piece?
She roots the whole show. All these characters are so explosive and wild and she comes in as this sort of anchor; I think it feels as if she is the sun and everyone else is revolving around her.

And what of your Joanne, Patti LuPone, who is no stranger to that part or to its signature song, "The Ladies Who Lunch"?
Patti is just the most incredible life force. She's completely open, with this incredible energy. There's nothing that she hasn't experienced, so nothing fazes her: she leads from the top like a master of her art.

Given the focus here on relationships, was it helpful having done the 2016 London revival of Jason Robert Brown's relationship-intensive The Last Five Years, opposite Broadway's Pretty Woman star Samantha Barks?
That show was just so intimate and extreme, but I actually find musical theater quite extreme in general—amazingly so in terms of the athleticism and self-care that are required. For me, doing that two-hander was like a whole new obstacle course, whereas Sam is so level and brilliant and well-equipped. We've totally been texting back and forth since she got to Broadway in Pretty Woman, and I'm going over to see it as soon as I can.

Do you think it will be difficult to conceive afresh of Bobby as male, moving forward from this production?
Possibly: the response really has been tremendous. I think [Company] is just going to speak in a different way now and be a different work of art. It's going to be difficult to make Bobby a man and have the show acquire this potency again.

Are you amazed at the series of high-profile, acclaimed productions you've been a part of, from notably starry stagings of Othello and King Lear to the revelatory Donmar revival of The York Realist, starring you and Ben Batt?
I do feel very lucky, but it's always about what's happening in the moment, you know? People say, "You've got to challenge yourself," and I don't think there's anything better than going, "I don't understand how this thing is possible." Fear of the unknown is always the thing in life.

With that in mind, how do you wrap yourself around the intricate, rapid-fire lyrics of "Getting Married Today," which is a bona fide showstopper?
You want it to look like a runaway train, but, of course, you've got to practice! Even though it's a trauma to perform every night—because it's so fast and the thoughts are so quick—in fact, you have no choice but to be present because the music enforces it. In some ways the ballads are possibly harder because you can sit back on them.

Nonetheless, is it hard to leave behind lyrics that dense when you are not onstage?
Welcome to my head! I'll be that guy you see walking through Chinatown muttering quickly to himself—or sitting on the Circle Line going round and round speaking the lines: you really can drive a person crazy [laughs]!

The song comes packed with whiz-bang references to wedding presents: what is your idea of the worst-possible wedding gift?
Well, I should say that the lyrics have changed so now I end up getting salad bowls in addition to the candle holders. But I think picture frames are probably the worst—if you're trying to decorate your home and someone throws a glossy titanium mirrored frame into the mix. Even worse might be a toilet roll holder, but you only tend to get those from your Auntie Mildred.

After claiming this part, have you thought about other female roles of Sondheim's that you might like to try—Mrs. Lovett, for instance?
Oh my God, she's coming, she's brewing, she's rising—or should I say he?