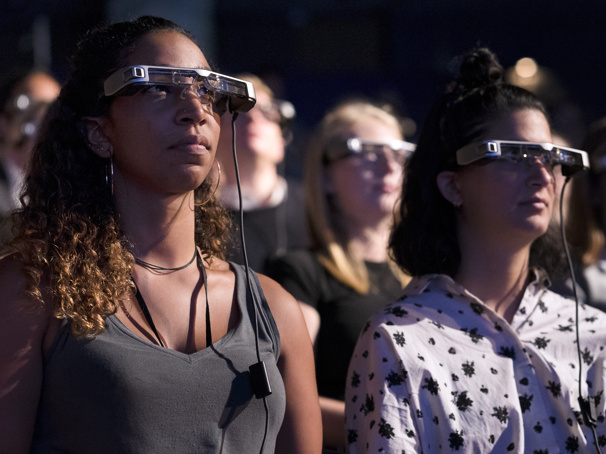 (Photo: James Bellorini)
London's National Theatre has announced the launch of a groundbreaking new technology: "smart caption" glasses, which will allow audience members to experience a production and view closed captions seamlessly. The innovation is expected to open up access to theater for people with hearing loss.

"The NT is continually improving how our audiences access our work," said Lisa Burger, executive director at the National Theatre. "The development of the smart caption glasses is an important step towards giving people a better service, with the freedom and choice around when and how they come to the theater, and I look forward to seeing the impact the glasses will have, not only at the NT, but in the entertainment industry more widely."

"We have been developing this groundbreaking technology since 2014, with the vision of transforming access to the arts," said Jonathan Suffolk, technical director of the National Theatre. "The NT leads the way in technical innovation in the theater industry, and these smart glasses are an extension of our ongoing ambition to improve and enhance audience access to theater."
Following a year of testing with audiences who are deaf or hard of hearing, the new technology, called Open Access Smart Capture, is now available at all three of the National's venues.

Here's how it works. The glasses display a synchronized transcript of dialogue and sound from the production being viewed, directly onto the lenses of the glasses, giving viewers the freedom to experience performances how and when they want to.

Following the launch of the glasses at the National, in 2019 the NT will partner with Leeds Playhouse as a next step toward helping to make this technology available in theaters across the entire U.K. The NT will also test the glasses during the U.K. and Ireland tour of Rufus Norris' production of Macbeth in January, in addition to being made available at venues including the Bord Gáis Energy Theatre, Dublin; Nottingham Theatre Royal; Hull New Theatre; the Marlowe Theatre, Canterbury; and Glasgow Theatre Royal.

Whether the technology will cross the pond to the U.S. is yet to be seen.