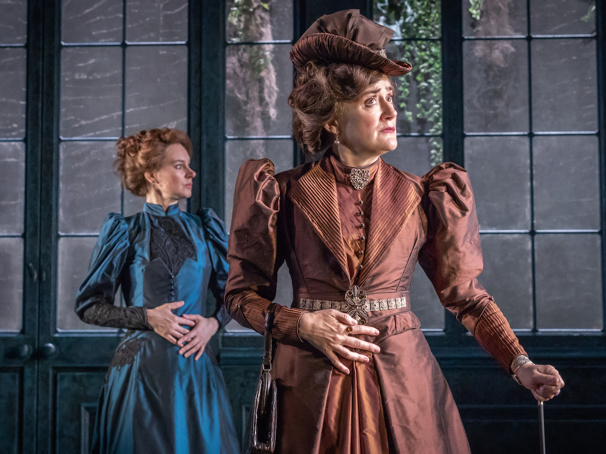 Pippa Nixon & Sophie Thompson in "The Importance of Being Earnest" (Photo: Marc Brenner)
Sophie Thompson has a diverse and distinguished list of credits ranging from the Harry Potter screen franchise to Celebrity MasterChef and the popular U.K. TV soaps, EastEnders and Coronation Street. But it's on stage where the Olivier Award-winning performer has really shone, whether in musicals (Company, Guys and Dolls) or in her current gig as a swooping-voiced Lady Bracknell in Oscar Wilde's immortal comedy The Importance of Being Earnest at the Vaudeville Theatre. Thompson arrived early one recent evening to the theater in time for a lively and engaging chat with Broadway.com.

How does it feel to be playing one of the most iconic roles in the female repertoire—the redoubtable Lady Bracknell?
It really surprised me, but then most things do. Most jobs that come up are surprising and also, if you're lucky, they're delighting as well. This is one of those roles, and one of those plays, that you've got to have a bash at and get inside the words and get the words inside oneself; it's such an extraordinary piece of writing.

Are you a Wilde veteran?
Not at all! I'd never done any Oscar Wilde, so when [Earnest] came up, I thought, I've got to have a go at it because it's such fantastically challenging material. It's almost classical in its rhythm and structure, which makes it very exacting; I've never experienced that in the same way, except with Shakespeare.

Presumably you'd seen it before?
Yes, I had. My mum [actress Phyllida Law] played Miss Prism in a production many years ago [Dame Wendy Hiller was Lady Bracknell in that one], and I'd been to see a mate in it a couple of years ago out of town—and I knew the [1952] film, with Edith Evans. So, yes, I was familiar with it in that way that you are when you're on the beach but haven't yet picked up that stone.

Were people full of advice and thoughts about the formidable character you are playing?
Everyone rushed up and said you know what to me—[Lady Bracknell's defining words "a handbag," which is one of the signature phrases from the play]—and one thinks, "Oh, God!" There are so many wonderful things spoken by this mad confection of a woman and it's just funny that she's defined by those words. That's hats off to Edith Evans, obviously. [Dame Edith remains a legendary Bracknell.]

Is it difficult to gauge this so-called "gorgon" who bustles into the play in the first act, in full comic throttle?
The thing with Lady Bracknell is that you have to take heed before anything else not of what you are saying but of what others say about the character, and that's always very helpful as a way into who the true lady is behind all the witticisms.

What, then, is your take on her?
Here's a woman who comes from a lowly background and married Lord Bracknell and became a part of this new world, much in the same way that people who convert to a particular religion are often much more passionate than those who are born into it. In that same way, Lady Bracknell is desperate to hang on to all the laws and the manners and to the remnants of Victorian society.

Was the intention here to deliver up an Earnest with a bit of a difference? [There have been some textual tweaks, and the production plays up the homoerotic subtext.]
One has seen productions [of Earnest] where the language is very clever, but it can sound a bit glib if you don't put the thought behind it. I'm not interested in watching posh people drink tea and spout clever words: we kind of see that in life. I'm interested, and so is our maverick director Michael Fentiman, in exploring the kind of underbelly of things, so I hope we've done that to a degree while maintaining a show that is fantastically amusing.

So, the goal is to be more than merely funny?
I think all of us in the company agree that Wilde of course is funny but you can have dark and funny and sexy and funny and awkward and funny, but if it's just funny, you miss out on a load of other stuff. I sense that some people have minded some of the choices we've made, but you have to be brave when you do a play. It's like with cooking: you want to make a dish with all these condiments and serve it up to all these people.

Ah, food, which is your recent and flourishing life, following Celebrity MasterChef and the publication of your cookbook, My Family Kitchen. How are you marrying this newer career with your established acting career?
I think I've come to realize that what we as actors do is so intangible as a job, which is why some people come to hate it: it's not a tangible thing. But cooking is quite tangible, and it can be very nice amid this very strange and nebulous profession to do something tangible and say, for instance, "Here is some hummus that I can share."

Are you the resident cook, then, of the company?
[Laughs] I am a bit of a one for bunging a few bits on the table in the green room. I just do it because I like doing it.

What about your two children's books, Zoo Boy and Zoo Boy and the Jewel Thieves?
You know what our jobs are like [as actors]: there are great areas of time when you're not required and you really want to put your juices elsewhere. I'd always wanted to do a children's book and still can't believe that I've got two out there. Sometimes, I nip into bookstores and move them to the spangly tables next to David Walliams [another British actor-turned-children's-book-author].

Casting an eye back, what do you make of an amazing stage run that includes two Sondheim musicals—Amy in Company and your Olivier Award-winning turn as the Baker's Wife in Into the Woods—and, later, the U.K. premiere of Bruce Norris' Clybourne Park?
Clybourne Park was the most amazing play I think I'd ever read; I just couldn't believe it. I thought it was breathtaking, and playing it was actually breathtaking! I'd never felt that feeling before from an audience and that sense of listening. It was an experience I'll never forget.

Do you see more Sondheim in your future?
Golly, if it was ever to come up! I was so lucky to do those two shows and, you never know, I might get a crack at something else. But you know, you're talking possibly to the vaguest actor: I belong in a very vague meadow and have always just been delighted to be considered and involved. I've never had a game plan and can only sort of try to be me.