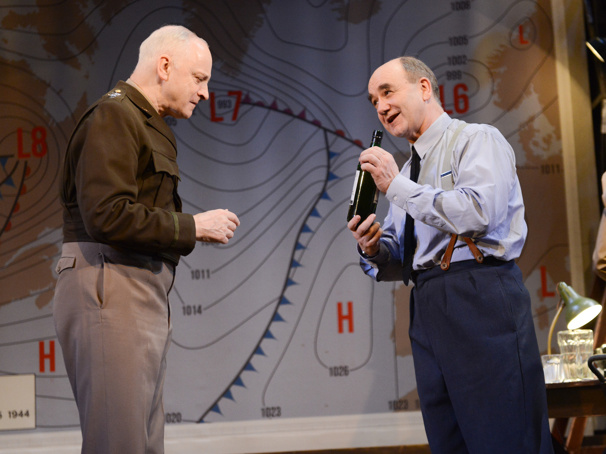 Malcom Sinclaire & David Haig in "Pressure"
(Photo: Robert Day)
David Haig q-and-a / Matt Wolf Weather is the unlikely if potent topic of Pressure at the Ambassadors Theatre, written by and starring the protean Olivier Award-winning actor David Haig, who is rarely absent from the West End stage, with credits including Guys and Dolls, Mary Poppins and Journey's End, to name just a few. After various airings in and around the capital, the historical drama set on the eve of World War II D-Day has settled in for a summer run during a rare London heatwave—which was just one of the topics under discussion when the ever-affable Haig joined Broadway.com for a lunchtime chat.

First off, what do you make of your country's abiding interest in weather, which gives Pressure its title as we track the days leading up to D-Day in June 1944?
How oftendo we talk about the weather when we haven't got another conduit? It's an extraordinary compulsion in this country. What I love about the character I play, James Stagg, is that he's got a passion for a subject that is normally mundane. The fact is, the weather defines us, it destroys us, it keeps us alive.

Did you write Pressure so you could play Stagg, the Scottish meteorologist who was asked to forecast the weather for those crucial D-Day attacks that would decide the fate of the war?
I'm not being disingenuous but am absolutely genuine in saying that I didn't intend to play Stagg. I recognized things in him that were attractive to me as an actor, but I also thought that this dour, tenacious Scot should go to a Scot who could play dour tenacity well. In the end, the two actors who were approached said no, and so they turned to me.

Are you increasingly thinking of yourself as a writer and not just an actor?
I've written four plays now, and I think I felt since I started writing that I enjoyed the greater control you have over the entity as a whole. Whereas an actor is part of the painting, as it were, a writer is more engaged with the creative process, and I have found that the two [jobs] balance one another very well.

Has writing reignited your delight in acting?
It has. During the 1990s, I found that I wasn't enjoying acting as much as I should have been, and once I began to write I found that I enjoyed acting a bit more; it's as if becoming a playwright gave me a way back in. [Haig's first play, My Boy Jack, about Rudyard Kipling and his son, was adapted into a 2007 TV-film that starred the author alongside Daniel Radcliffe and Kim Cattrall.]

Are you pleased that some have compared you to the great Terence Rattigan, author of such masterworks as The Deep Blue Sea and Separate Tables?
Well, I am a huge fan of his and was so pleased when the resurgence in his reputation occurred, but I would never compare myself: I still think of myself as an actor who writes and not a writer who acts. Structurally, he's one of the finest playwrights we've ever had purely as a storyteller, and I'm delighted that people have mentioned him as a sort of reference point.

Can you expand upon the pun implicit in the title Pressure—which is both a meteorological term and also refers, of course, to stress?
I've now done over 200 performances as Stagg and have really come to see him as a man who has to his job well and walks onstage imagining that he has a job to do, just as an actor also imagines he has a job to do. What happens is that all these bombs start landing on [Stagg], but while all that pressure is building, he is still just doing his job.

Here and in My Boy Jack, you've grounded your imagined narrative in historical truth: how does that work as an approach?
What's fascinating with this sort of thing is the way you're inventing a story within the truth insofar as you are releasing to an audience an angle on an event that hasn't quite been conceived before. My new play is about a pigeon fancier during the Siege of Paris in 1870-71 at a time when pigeon fanciers were the Eric Claptons of the Siege: it's about finding the lateral story around someone or something that is historically true. The same is true with Stagg: most people don't think of meteorology when they first think of D-Day.

Did you ever foresee that your play would chime with a renewed interest in all things WWII, or so it seems of late?
It's funny that, isn't it? I first wrote quite a lot of the play in Budapest when I was doing a not very exciting role in a TV series and there I was seated in a room or a café overlooking the Danube. At that point, what I was doing felt very exotic and this surge of interest hadn't really taken hold. Even The Imitation Game hadn't come out yet, not to mention The Darkest Hour, though since then, both films have become part of a surge; I'm just hoping that there isn't an overdose of interest!

What do you make of the amazing breadth of your career, which covers new plays and classics, blockbuster musicals (Mary Poppins, for one) and provocative fare off-West End?
I've always felt very lucky not to have been pigeonholed. I'm very delighted by the variety that my career has afforded me and the fact that it still feels as elastic and as varied as it ever did as I move into my 60s. One thinks of someone like Imelda Staunton, who can travel a huge range, which is all that you can ask for, really.

Are you pleased to have found a home in musicals?
The thing with Mary Poppins was that I loved Julian Fellowes' book, which I thought was darker and balanced the Disney perception of that world, and I thought the writing of Mr. Banks was beautiful. I know I'm not a singer, but I can speak my way through things and hold a tune, and also I had never worked with [Poppins director] Richard Eyre, so all those things were appealing.

What about Guys and Dolls, which came later [and for which Haig got a 2016 Olivier nod for Best Actor in a Musical]?
That has always been entrancing: I just think it's brilliantly witty and humane and all those things, so that was irresistible as well. If another musical comes up which sort of catches me in the same way as these two did, I know I would do it.

How does it feel now to have your son, Fred, who is making his own mark in musicals?
Fred's got something of an inherited tendency in that he wants to not get typecast. He was cast in On the Town in Regent's Park and then broke his foot so had to come out before press night but then went on to do Follies at the National as Young Buddy, but he's not going to rejoin it at the National next year. It's not that Fred doesn't want to do musicals again but that he, like everyone, wants a range: he's in the new Stephen Poliakoff TV series.

Do you have any TV series on tap?
I've got a British series called Killing Eve coming up on BBC1 starring Phoebe Waller-Bridge, and I play Sandra Oh's best friend. It's a good, good series, and they have written it beautifully. That's coming out, and also, I've got two different writing ideas, one of which I'd love to get tied down. Occasionally, people recognize me from something I've done and shout my name across the road as if whatever it was happened yesterday. I feel like saying to them, "Well, that was 12 weeks of my life and I'm now 62," but it's just good to be working and enjoying the work; that's the point.