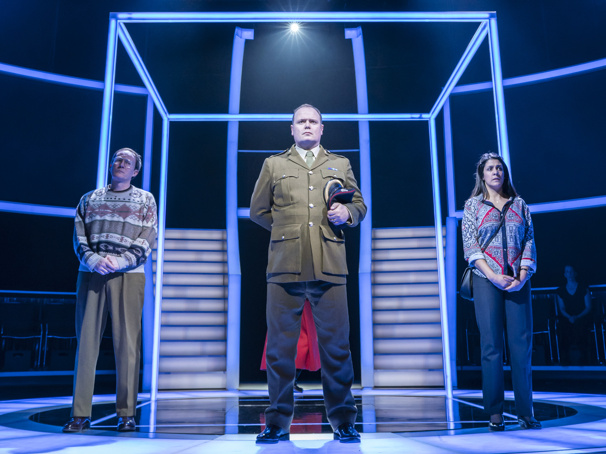 Mark Meadows, Gavin Spokes & Stephanie Street in "Quiz"
(Photo: Johan Persson)
Gavin Spokes is among those invaluable English performers who can do plays and musicals across both the British and American repertoire. A 2016 Olivier nominee for playing Nicely Nicely Johnson in Guys and Dolls, Spokes is now in the final stretch of an acclaimed run playing an English Army major enmeshed in a real-life scandal in James Graham's play Quiz, directed by Daniel Evans—and giving a performance to which, Graham told us, Spokes brings "real truth and humanity and decency." Broadway.com caught up with Spokes prior to a performance at the Noel Coward Theatre to talk truth and falsehood, as well as an acting range that would be the envy of many a performer.

How much did you know in advance about the subject matter of Quiz, which concerns a game show scandal that took place in 2001 when a former British Army major named Charles Ingram was accused of cheating his way to success on the U.K. version of the game show, Who Wants to Be a Millionaire? [He won the £1 million jackpot only to lose a subsequent court case and end up vilified in the press.]
I was at drama school at the time and too busy trying to get a bloody job to worry about some guy cheating on Who Wants to Be a Millionaire.

Do you feel now as if the subject has taken you over, having done Quiz first at the Chichester Festival Theatre south of London and now on the West End?
We had Charles Ingram and his wife, Diana, come in and talk to us during rehearsals at Chichester, and what was clear was that their lives basically have been ruined. What Charles was keen to emphasize when we met was that he may not be able to convict people of his innocence, but he can perhaps convince people that he didn't have a fair trial.

With that in mind, how does it feel to have the audience at Quiz vote eight times a week as to your character's innocence or guilt—more often than not finding you innocent?
That's part of what is so extraordinary about what James [Graham] does in this play. In Act 2 we raise points of fact that weren't allowed to be stated in court at the time, which is bound to make a difference all these years later.

Did the real Charles Ingram comment on your performance?
I've met Charles now several times, and he has said he is very happy with what is being presented [onstage]. He thought that it was very fair and that what I was doing was, if anything, perhaps not as eccentric as Charles is himself.

Was that the reaction you were hoping for?
Very much so! I was afraid that I might be more of a caricature and wasn't sure how likable I would be. I'm glad Charles seemed pleased because he's ridiculously bright. He finds himself a fascinating man and is right to think so!

How would you describe Charles, purely in terms of what the role asks for?
I would say he's a man caught up in a whirlwind of events who is trying to piece his way through it and to keep his integrity—all the while being conscious of how he appears.

What sort of "truth" do you hang on to when doing this play, given that Graham is writing about the very notion of truth and lying itself?
That's an excellent question. The thing for Stephanie [Street, who plays Ingram's wife, Diana] and me is that we have to play the absolute truth of what we think is going on in James' play, given that the fabrications in the play are still quite accurate; the facts that are depicted are true, they're just not word-for-word true.

Is it fair to see this as far more than just a particular, and peculiar, English story?
I've been thinking about that a lot over the run, especially because we've had more tourists on the West End as opposed to at Chichester, where the audience inevitably is that much more English. I think the underlying themes in terms of who controls the truth and alternative facts and who gets to pass on the message are all extraordinarily current. What you're watching is the manipulation of two people whose lives disintegrate in front of you.

Is Daniel Evans' production fun to perform, given its sometimes raucous engagement with the audience?
Yes, and what's been nice on the West End is how receptive and open the audience feels, even if we may sound slightly odd to the tourist ear. In Chichester, it felt as if they didn't want to engage quite as much; the audience was a bit more "judgey."

Do you like quizzes yourself—the venerable English tradition of the pub quiz, for instance?
I'm usually too busy in a theater but as and when I can, I do like a pub quiz! I think of it as combining two of my favorite pastimes: drinking and being right [laughs].

How has it been to navigate between plays like this and One Man, Two Guvnors [Spokes was one of several replacements for James Corden] and musicals like Guys and Dolls? [Since this interview, Spokes has been approached to be in the much-anticipated West End revival in the fall of Company.]
It's all about trying to keep it as diverse as I can. I'm a character actor, and I'm just terribly lucky because I can sing, as well. When Guys and Dolls came along, I said, "I've got to do this," and I did. I count my stars every day.

Has your affinity for American roles made you want to try your hand at success Stateside?
I actually lived in the U.S. for four years from 2002-2006, and I think I felt then that opportunity was available to those who are happy to put their neck on the line, and I'm not sure I have those massive aspirations; I'm very pleased with where things are at the moment, I have to say.

How do you feel about the rise and rise of your onetime Guys and Dolls castmate Jamie Parker, a current Tony nominee as Harry Potter who was playing Sky Masterson when you were Nicely Nicely?
I first knew him in the National Youth Music Theatre when we were about 17, and we're good mates. What's remarkable about Jamie is that he's not just a classy actor, he's a classy man. He's always been the brightest person I've ever known, and I'm just really pleased for him.