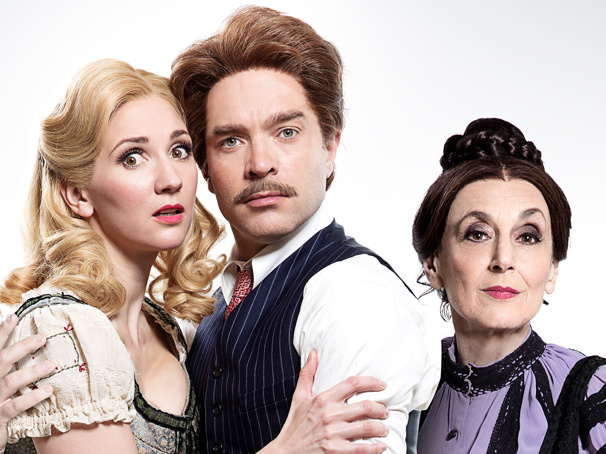 "Young Frankenstein" stars Summer Strallen, Hadley Fraser & Lesley Joseph
(Photo: Target-Live UK)
The Olivier Award-nominated West End transfer of Mel Brooks' Broadway musical Young Frankenstein will conclude its run at the Garrick Theatre on August 25, 2018. The tuner began previews on September 28, 2017 and officially opened on October 10, 2017. The production has also announced a U.K. tour set to launch in September 2019 and an original West End cast recording, set for release in July 2018.

Mel Brooks commented, "Thank you, London audiences, for embracing Young Frankenstein and for making us such a smash hit in the West End. I'm so happy that soon the rest of the U.K. will get a chance to see it...so see it before you die or you'll regret it forever!"

Young Frankenstein, a comedic re-imagining of the Mary Shelley classic Frankenstein, follows Frederick Frankenstein, an esteemed New York brain surgeon and professor, as he inherits a castle and laboratory in Transylvania from his deranged genius grandfather, Victor Von Frankenstein. He now faces a dilemma: does he continue to run from his family's tortured past or does he stay in Transylvania to carry on his grandfather's mad experiments reanimating the dead and, in the process, fall in love with his sexy lab assistant Inga?

Young Frankenstein features a book, music and lyrics by Brooks with direction and choreography by Susan Stroman. The current cast is led by Hadley Fraser as Dr. Frederick Frankenstein, with Summer Strallen as Inga, Cory English as Igor, Dianne Pilkington as Elizabeth, Lesley Joseph as Frau Blücher, Patrick Clancy as Inspector Kemp and Nic Greenshields as the Monster.

Full U.K. tour details, including casting, will be announced at a later date.