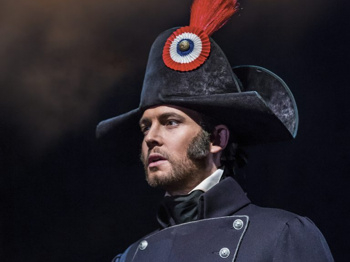 David Thaxton in "Les Misérables"
(Photo: Johan Persson)
David Thaxton won the 2011 Olivier Award for his stunning performance as Giorgio in Stephen Sondheim's Passion, but the performer has been spending much of his career returning to Les Misérables at the Queen's Theatre, where he is now once again playing Javert (through July 21) having previously risen through the ranks from ensemble player and on to Enjolras. Broadway.com caught Thaxton late one recent afternoon for an informative and engaging chat.

Has Les Misérables been a defining part of your life?
It has! I mean, God, it's been 13 years now that I've been in this show on and off. It was my first West End job and my first anything, really, professionally that people noticed. I moved to London to do it and it's been the making of me onstage as well as off. [His wife, Nancy Sullivan, was a onetime Eponine.]

So, does this feel like a homecoming?
I feel like I'm back again! I got a really nice card from Cameron [Mackintosh, the producer] saying "Welcome home." This has been such a vital and important part of my life that I can't quite imagine what it would have been like without it.

How did this return engagement specifically come about?
I'd heard that Hayden [Tee, the previous Javert] was leaving and I gave my agent a ring and told him that I thought it would be very cool to go back [to the show] after three years away, and they were pleased for me to have another go at the role.

Has the part felt different this time out?
I think last time I felt a little bit young [for the part]. Javert is 30 or 31 at the start of the show and 51 by the end, so you've got to be somewhere on that spectrum, but I think also that there is a weight that comes with time. If you've lived things, they're built into you; I just feel better-equipped this time around.

Have you found a particular way into understanding the character?
For me, it's always been about going straight to the novel, which is a wonderful, wonderful book. The best thing about Les Misérables is its amazing story, which has something for everyone. It's not the music, the design, the set—it's this story of Javert's monomania and his inherently unshakeable desire for what he deems to be the truth.

What do you think drives him to such a calamitous end?
Here's this police inspector who has spent his entire life chasing a criminal who also shows him what decency and love and truth are about. He can't marry that contradiction.

You mention your predecessor Hayden Tee, and of course the original Javert, Roger Allam, is appearing a few streets away at the moment in The Moderate Soprano. Do the various Javerts over time ever get together to trade notes or just hang out?
[Laughs.] I'd love to go to a bar with Roger Allam and talk about Javert; that would be amazing! But I think this kind of thing is a lot more likely with a character like Enjolras. It's hard to imagine much of a Javert club given that the character is such a lone wolf.

Isn't it interesting that Javert leaves such an impression, given his relatively brief time onstage?
I think only Cosette is onstage less! Somebody told me that Javert gets something like 23 minutes, but what minutes! Every time you appear on stage, something hugely dramatic is going on.

What is that like from a performing perspective?
You don't sustain the narrative arc unbroken. Javert is there and then it's eight years later and then 10 years later after that when stuff happens. He appears at the moments of really high drama.

Have you had other roles that worked in this way?
I felt much the same with Pilate [whom Thaxton played at Regent's Park in Jesus Christ Superstar]. All his exciting stuff happens in act two and he turns up at the point where the drama is at its highest. You can't drop the ball there since your job is to carry it through those 10 minutes and get it back to Jesus.

Do you see a Jean Valjean on your horizons?
Off the top of my head I can't think of too many people who have played both roles but oh my God, of course, who wouldn't? It's one of those roles, so absolutely one day, yes please.

What are your memories of the immensely deserving Olivier Award that you won for Passion at the Donmar Warehouse, opposite Elena Roger and Scarlett Strallen?
I was very surprised—shocked, even. I didn't have a speech prepared and thought Ramin [Karimloo, nominated for Love Never Dies] had it nailed. But it was Nancy who said to me, "There are only five of you [nominees], and you might win." It was just so lovely to be there with Nancy on one side and Stephen Sondheim on the other!

Did you think that performance might take you to New York?
The thing about the life of an actor is that you never know, and I've long since learned not to get stressed about things like that. I would have loved to do it there had Passion transferred, and to work in New York at any time would be fantastic.

Do you think there is a further stint as Javert in your future?
Well, you never say never as an actor, but I think I'd need a bit of a break were that to happen. I've felt so much happiness doing the role this time and I think it's better, as well, and I would hate to feel that I had stopped having any sense of truth or connection to the character. I think I'd need some time to pass.